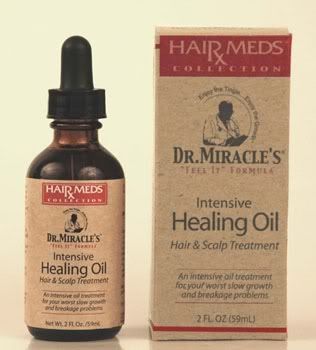 A few months back I was gifted with a very generous box of
Dr. Miracle's
products. Inside the box I found the Intensive Healing Oil, Damaged Hair Medicated Treatment, Temple & Nape Gro Balm, Healing Leave In Treatment and Conditioner, Intensive Spot Serum, 2 In 1 Tingling Shampoo & Conditioner, Tingling Intensive Deep Conditioning Treatment. Wow, talk about a gift box!
Over the past few months I have tried the products and I will be giving my review for them a few at a time.
But before I get into the individual products, I want to talk about the packaging, the presentation, and the scent.
Packaging
: Each product comes in a brown box. The paperboard containers look old fashioned with the Dr. Miracle's logo printed in black on the front and top. Something about them look serious, not at all fruity or floral like most hair products marketed to women. They seem to say "we mean business" or "we have a purpose and our product is more about functionality than beauty". The red, black and brown color scheme punctuate this ideal, accenting the medicinal or healing theme of the product. These are not for the average girl who wants a sensual hair experience. They are here to fix, cure, or heal damaged hair and scalp.
Presentation: In addition to the packaging, Dr. Miracle's is probably most easily
recognized
for their ads in magazines like Essence and their
commercials
. Clearly, these publications are aimed at Black women. As we know, we spend more money on our hair than anyone else in this country. Knowing this, and playing up the good hair/bad hair (although not directly so) debate, Dr. Miracle's tends to do before and afters that aim to persuade Black women that whatever is broke about their hair, Dr. Miracle's can fix. It's not just a hair product. It's actually a miracle! Hmmm... I will give it some points for hilarity (that scream at the beginning makes me laugh each time) but at the same time, it always makes me uncomfortable with how the before and after pics seem to say that something is inherently wrong with Black hair. Especially that one with the woman with the long curly hair. Yeah, it looks a bit frizzy before. Nothing a good leave in/gel/styler couldn't tame (if that is the look you're going for. Personally I like frizz every now and again). And I am not against the straight after pic either. But to imply that the before was unhealthy (read damaged, unruly, just not right) and the after is beautiful (read straight, fixed, cured, whatever) is just the wrong message to send, in my opinion.
Scent: This is what did me in. Ok, I get it. This product is supposed to be the cure. So that means it must smell serious and intense, like medicine, right? Wrong. Menthol, medicinal, just plain strong! I think I put off trying most of this stuff for the smell alone! I am very conscious about the scents that go in my hair and on my scalp. So right off the bat, Dr. M lost major points.
Ok so that is the preview. The first two products I will review are the 2 In 1 Tingling Shampoo & Conditioner and the Intensive Healing Oil. And don't get me wrong. Even though I have some strong opinions about many things about this line, there are some good ones too. Stay tuned...