I can't tell you how much I miss Alicia Keys gorgrous braided designs. She is still amazingly beautiful with straight hair, of course, but I can't help but find myself yearning to see her stunning braids. People say she has adopted a more "polished" or "sophisticated" look. Bah humbug! Braids and cornrows ARE elegant too! To me, that is such an example of looking at Black beauty through a White/Non-Black lens. So I decided to dedicate this Sunday's Cuteness all to Miss Key's lovely braided locks from yesteryear! Summer 'do anyone?!?!
Gotta love the beads. I can imagine it was hard to keep this look going when people are urging you to straighten or "soften" your look to gain crossover appeal.
How can you tell me that these lovely shots below are not elegant. She looks stunning to me with them swept to the side like that!
I used to love the braid wrapped around the front!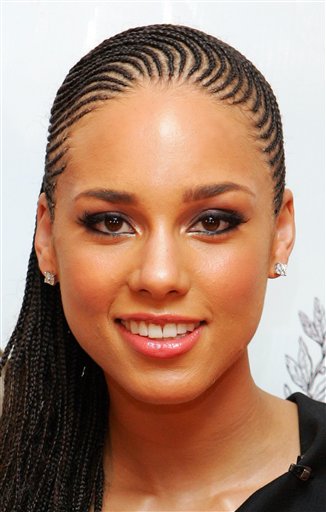 When I was in college that was a girl who could do my hair like these. I LOVED it! She only charged 5 dollars!
Just beautiful! She looks like some kind of princess with this one.
She does amazing things by the way with the Keep A Child Alive organization. Click
HERE
to visit.